Benoit Scholtes
PhD Student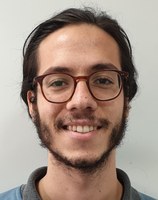 Bernstein Center Freiburg
Hansastr. 9a
D-79104 Freiburg

Tel. +49 (0)761 203 9555
Benoit.Scholtes@bcf.uni-freiburg.de
Research Topics
The connection between network structure, plasticity mechanisms, and neural manifolds; low-dimensional manifolds in firing rate space on which most of neural dynamics is confined.
In particular, what plasticity mechanisms and architectural signatures are responsible for the stability and adaptability of these manifolds?
Also, what changes in the connectivity are required for a production of novel activity outside the manifold compared to inside the manifold? 
Techniques
Analytical methods relating network connectivity and plasticity to dynamics
Modelling of network architecture for the production of neural manifolds
Simulations of neural networks in NEST combining different plasticity rules and network architectures 
Academic Background
Since 10/2020: PhD student at the Bernstein Center Freiburg, in the group of Prof. Stefan Rotter
2017 -- 2020: M.Sc. in Physics. University of Bonn
2012 -- 2015: B.Sc. in Physics and B.Sc. in Philosophy. University of Queensland, Australia